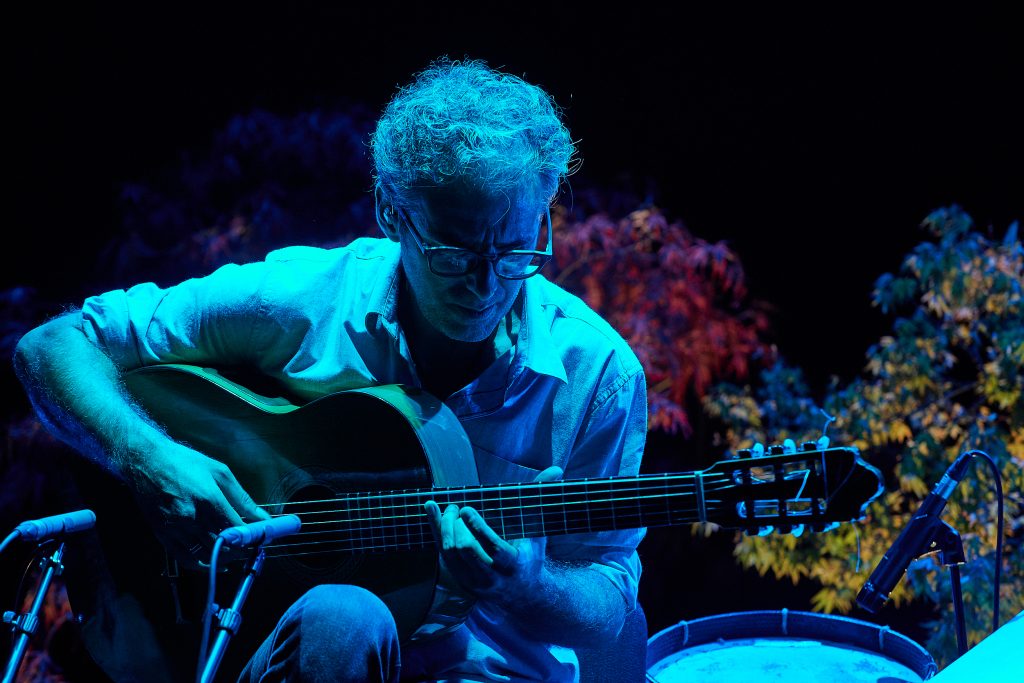 Long before the theatres' audiences are filled up with spectators, there is, strange as it may seem, those who dialogue with the silence that exists in these apparently empty spaces. Imagining the arrival of the sound of the footsteps, the moving towards the chairs and the murmuring embraced by the surprise of the arrival, they greet the silence, initiating a ritual that pacifies the longing that falls on him. Manuel de Oliveira places himself in the first wing: the place between what it is heard and what it is to be heard. Dialoguing with the silence, it assures him understanding and companionship along the moving of the blast. Between the silence and the spectator, between the spectator and the sound, standing at the edge of the aphonia of the spaces, this composer embraces his instrument as a voice and invites us to witness his dialogue with the silence without saying a word.
We might even say if the silence was wild, which sometimes is, that Manuel is a silence enchanter and that our internal roaring is seduced and pacified by his solo intercourse.
Márcio Silva 
Recorded Live on Tape, on May 28th and 29th 2020, at Centro Cultural Vila Flor, Guimarães, to "Emergência Cultural", promoved by Câmara Municipal de Torres Vedras and Teatro Cine.
Manuel de Oliveira: Guitars, braguesa e percutions
Cameras: Eduardo Carronda Alexandre Perdigão
Video Direction: Alexandre Perdigão 
Light Design: Light design Ricardo Santos
Audio Production: Hélder Costa
Audio Production Assistant: Paulo Ribeiro, João Guimarães
Graphics: Alexandra Xavier
Executive Production: Manuel de Oliveira Pedro Nunes
Executive Production Assistant: Catarina Silva
Musical Production: Manuel de Oliveira Hélder Costa
Produced by: Portugal Music 360 
Support:
Centro Cultural Vila Flor, Guimarães A Oficina