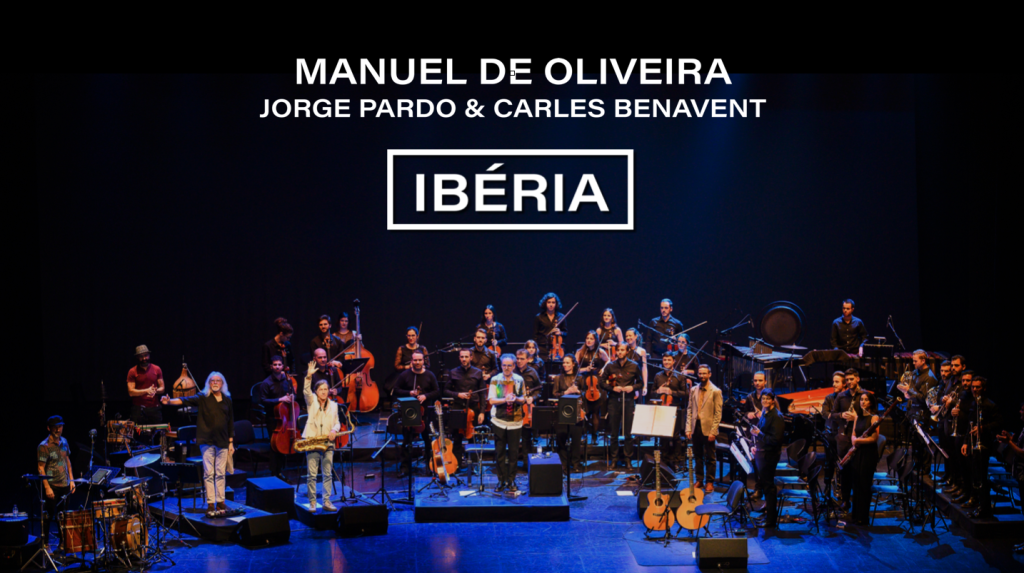 IBÉRIA, the geometric place of a meeting of cultures and peoples, materializes on stage through the fusion of sounds and the triangulation of a common and shared imagery.
After 20 years, Manuel de Oliveira, Jorge Pardo, and Carles Benavent return to give life to new musical pieces, to new journeys to the farthest reaches of an Iberian culture that these three musicians and composers share, without limits or borders.
In concert, the 20 years of IBÉRIA are celebrated in a special format with an orchestra, under the direction and arrangements of conductor Carlos Garcia. Through a reinterpretation of eleven works from the approximately forty created within this project, this format was designed to be performed in partnership with various orchestras.
It premiered at the Guimarães Jazz 2022 edition with the Guimarães Orchestra and later took place at the Convento de São Francisco in January 2023, featuring the Orquestra Clássica do Centro.
This show marks not only the 20-year career of this Portuguese musician and composer but also his first album IBÉRIA, his most acclaimed work, the same that inaugurated a partnership with the Spanish musicians Jorge Pardo and Carles Benavent, founders of PACO DE LUCIA SEXTET, with whom Manuel de Oliveira has maintained a close and very special complicity.
The IBÉRIA project is also available in the Quintet format.
The IBÉRIA project originated in 2002, resulting in the first original album of the guitarist and composer Manuel de Oliveira, becoming the work that shaped his identity. Among other guests, his first album featured the special participation of Jorge Pardo (flute and soprano saxophone) and Carles Benavent (electric bass), musicians who were founders of the PACO DE LUCIA SEXTET. They quickly went from being visitors to inhabitants of a project that, over 20 years, has gifted us with new creations and unforgettable concerts. Notable events include the 2003 "Emociona Jazz, Madrid" festival, where they shared the stage with Chick Corea, John Scofield, Jan Garbarek (among others), and the 2007 IBÉRIA FLUENTE concert commissioned by Casa da Música. In 2012, within the framework of Guimarães European Capital of Culture, the IBÉRIA 10 ANOS concert took place, which later became a film-concert and was released as an album in 2016, followed by the IBÉRIA LIVE tour, concluding with sold-out shows at CCB (Lisbon) and Casa da Música (Porto).
In 2022, the three musicians come together again to record IBÉRIA 20|22, an album that celebrates the 20 years of this project.